Active 10 PLUS with Full Spectrum Hemp Oil (3oz Tube)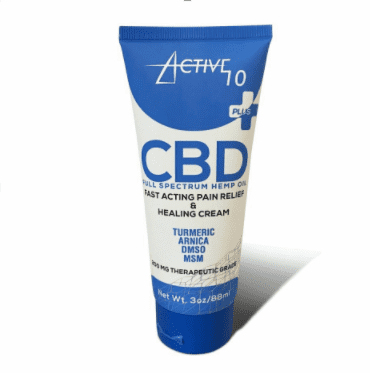 Active 10 PLUS with Full Spectrum Hemp Oil (3oz Tube)
Active 10 Relief and Healing Cream is now available with full spectrum hemp oil.  Each 3oz tube of Active 10 Plus contains 200mg of full-spectrum hemp oil (CBD). 
✅ U.S. grown Organic hemp oil extract. Absorbs quickly to provide targeted relief to your back, neck, knee, hip, shoulders, elbows, joints and muscles.
✅BREAKTHROUGH ORGANIC FORMULA with proven ingredients like turmeric, hemp, MSM, arnica, glucosamine, menthol, capsaicin, camphor, and DMSO.
✅ MAXIMIZE YOUR RESULTS: Use Active 10's all natural hemp cream morning, day, and night as needed, especially for the first few weeks of symptoms. Remember, some issues take longer than others.
✅ WORRY-FREE GUARANTEE: Our relief formula works for almost everyone. But, if it doesn't work for you, we proudly offer a worry-free guarantee. No questions asked!